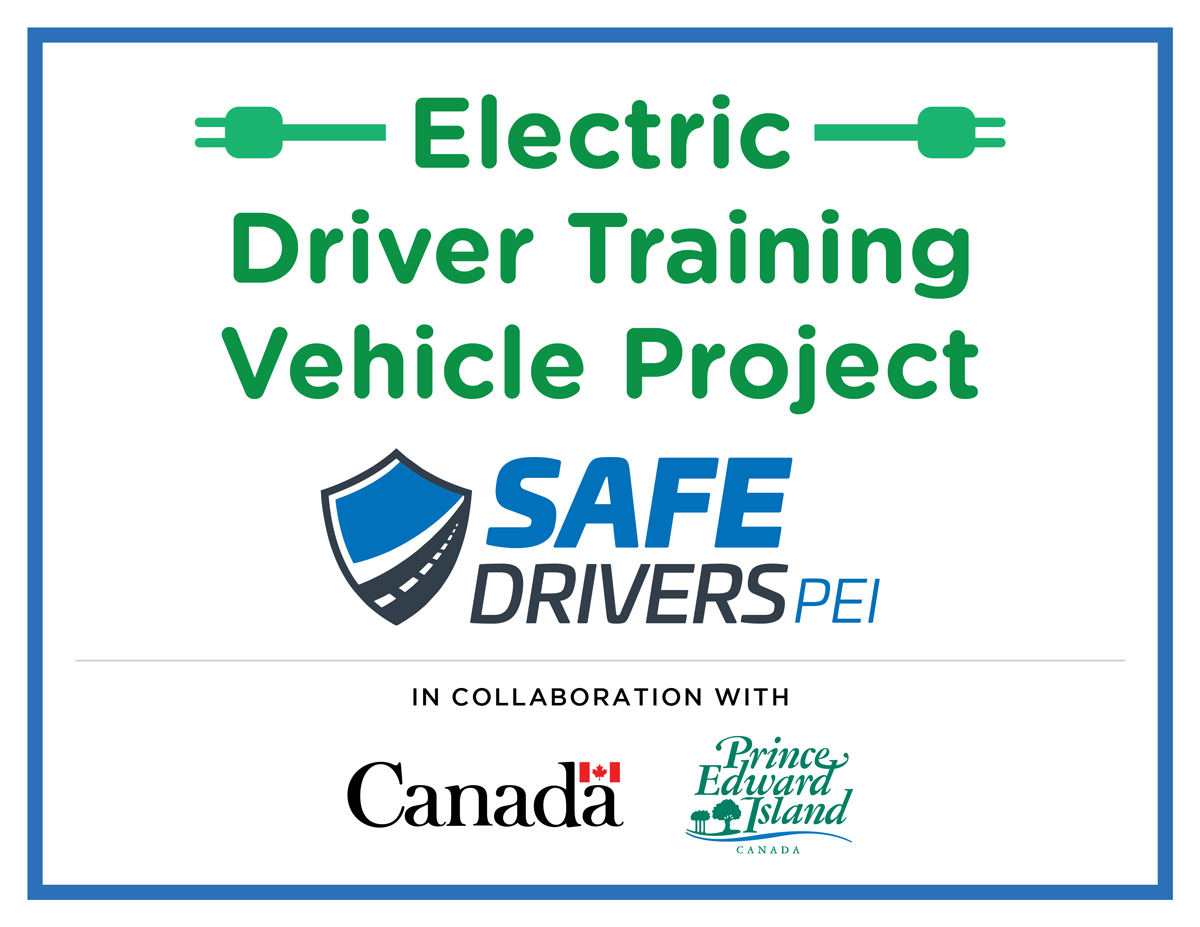 May 17th, 2023
Toronto, ON – Safe Drivers PEI, the leader in driver education on Prince Edward Island, will be updating its driver training vehicle fleet to include seven new Zero-Emission Vehicles (ZEVs) as a part of a new project. Presently, the majority of new drivers in Prince Edward Island do not have access to a ZEV for driving practice. Through this project, over 1,500 new drivers will be exposed to ZEVs through Safe Drivers PEI each year.
In addition to the seven new ZEVs in Safe Drivers PEI's training fleet, the Electric Driver Training Vehicle Project will include updates to the PEI driver education curriculum to better inform new drivers in the use of ZEVs. Through this initiative, by late 2023, Safe Drivers PEI will become the largest operator of ZEVs for driver training in Atlantic Canada, and among the largest in Canada. 
The project will support Canada's transition to all new light-duty cars and passenger trucks sales being ZEVs by 2035, and the Government of PEI's goal of being the first province to achieve net zero by 2040. Overall, the Electric Driver Training Vehicle Project will help lead the way to a more sustainable future for all Islanders, while reducing driver training CO2 emissions by over 100 tons per year. 
"I am thrilled to be in Toronto today at the Electric Vehicle & Charging Expo for the announcement of our Electric Driver Training Vehicle Project. This project will drastically change how driver training is done in Prince Edward Island. As PEI's largest driving school, the addition of seven ZEVs to our fleet will lead to direct zero emission vehicle exposure for thousands of new drivers throughout the province" says Eric Brookins, General Manager of Safe Drivers PEI.
"Zero-emission vehicles are helping Canadians to reduce emissions and save money on fuel while creating good jobs throughout the supply chain," says the Honourable Jonathan Wilkinson, Minister of Natural Resources. "Investing in zero-emission vehicles will put more Canadians in the driver's seat on the road to a net-zero future and help achieve our climate goals."  
"I'm so pleased our government is investing in Zero-Emissions Vehicles for driver training with Safe Drivers PEI. This investment means new drivers on Prince Edward Island will gain the experience and education needed to increase the use of ZEVs across the province. Our government is determined to help PEI meet its climate goals and this is a big step in supporting sustainability and ensuring that Islanders have access to the tools they need to continue to modernize vital infrastructure and meet our ambitious climate commitments." Says the Honourable Lawrence MacAulay, Member of Parliament for Cardigan, Minister of Veterans Affairs and Associate Minister of Defence
Funding for the Electric Driver Training Vehicle Project was provided through Natural Resources Canada's Zero Emission Vehicle Awareness Initiative and through the Prince Edward Island Office of Net Zero.
Frequently Asked Questions
The term Zero Emission Vehicle (ZEV) refers to vehicles which can operate without producing 'tailpipe' emissions. This includes Battery Electric Vehicles (BEVs), Plug-In Hybrid Vehicles (PHEVs), and Hydrogen Fuel Cell Electric Vehicles (FCEVs).
What is the purpose of the Electric Driver Training Vehicle Project?
The Electric Driver Training Vehicle Project was created by Safe Drivers PEI to help solve a knowledge gap in ZEV technology among residents of Prince Edward Island.
A 2021 survey from Natural Resources Canada found that 74 percent of Atlantic Canadians have never ridden in, or driven a ZEV. Although this figure has improved since 2021, there remains a significant amount of the population who have not been exposed to ZEV technology.
Through this project, thousands of people in the province will have the opportunity to learn about and drive a ZEV.
No, this is not a new course. The new materials related to ZEVs and their use will be integrated into our already existing in-person and online driver education training curriculum. The updated driver training curriculum will be rolled out by September 2023. 
Do new drivers need training on ZEVs?
Physically driving a ZEV is very similar to driving an Internal Combustion Engine vehicle (ICEV) and requires very little adjustment by the driver. However, there are significant amounts of information available as it pertains to charging, maintenance, range, ZEV models and subtypes.
Providing this information to new drivers during driver education training ensures that new drivers have a better understanding of the technology, and are more likely to adopt the new technology in the future.  
Are there any upcoming opportunities to try driving a ZEV?
Islanders will have the opportunity to learn about, and drive electric vehicles this summer in communities across the province!
Staff with the province's Net Zero Office and Safe Drivers PEI will host several events throughout the province in July and August.
Why are ZEVs the future of driving?
Widespread adoption of ZEV technology is a key factor in our societies objective of reducing greenhouse gas emissions; The implementation of ZEVs will significantly reduce the need for fossil fuels and the associated greenhouse gas emissions.
Over the next decade, ZEVs will become more and more popular on our roads. Ultimately, the government of Canada has mandated that by 2035, all new light duty vehicles sold in Canada must be ZEVs.
If I become a student of Safe Drivers PEI, am I guaranteed lessons in a ZEV?
Although we will be rolling out ZEVs throughout the province this year, new or experienced driver education students should not expect to have all their lessons in a ZEV just yet. Students specifically seeking lessons in ZEVs should contact the office to schedule their lesson. As of June 2023 we have 4 ZEVs in our fleet.
Where possible, we will accommodate student requests for lessons in ZEVs. By the end of 2023, a significant percentage of weekly lessons will occur using ZEVs.